In the Community
Workforce Opportunities
ODOT is dedicated to developing a diverse workforce and expanding economic opportunity through the I-5 Rose Quarter Improvement Project. We are reshaping the way we do business - as we take a value-based approach to contracting, active community engagement and minority-owned Disadvantaged Business Enterprise (DBE) participation goals.
The I-5 Rose Quarter Improvement Project team, led by ODOT, includes the Hamilton/Sundt Joint Venture (HSJV) in association with Raimore Construction. The team is committed to investing in minority communities within our region through the work and opportunities the project provides.
The goals and strategies outlined in our Diversity and Subcontracting Plan are designed to help develop, mentor, expand expertise and build the capacity of DBEs, as well as to promote workforce development and economic opportunities for historically underrepresented populations.
What is a DBE?
Disadvantaged Business Enterprises (DBEs) include small businesses that are at least 51% owned by:
Minorities (defined as persons who identify as Black, Hispanic, Native American/Indigenous or Asian-Pacific Island Americans and Subcontinent Asian Americans).
Women and other individuals on a case-by-case basis.
Visit ODOT's Office of Civil Rights DBE webpage for more information.
Workforce Goals
18% to 22% of total project contract value to be awarded to DBEs

3 to 5 MCM/GC* opportunities for DBEs, with a value estimated at $95 million

20% apprenticeship goal by trade (exception of operating engineers at 15%)

25% minority and 14% female workforce diversity targets

2 million labor hours with up to $150 million in payroll and benefits
*Mini Construction Manager/General Contractor (back to content)
Our efforts to expand the local contracting community will support the development of new DBEs and promote a diverse and skilled workforce. Through mentorship and training, we will remove barriers and empower DBE participants with the necessary skills to effectively compete in the open market.
Although these opportunities will not be able to restore lost wealth, the project team is committed to promoting diverse business and workforce participation to a level not seen on projects of this magnitude.
Hamilton/Sundt Joint Venture Workforce Objectives
Build capacity in local underrepresented populations to meet local construction workforce needs.
Work closely with workforce providers to increase access for underrepresented local populations.
Work closely with workforce providers to increase skill development through more culturally competent advocacy, mentorship and workforce retention programs.
Provide new opportunities and facilitate new relationships between minority subcontractors and prime contractors.
Maximize opportunities at all levels of the project for local minorities.
Enhance the relationships between ODOT/City of Portland and the local minority business community.
Constitute a DBE/On-the-Job Training (OJT) Advisory Committee of local community members to provide recommendations for DBE/OJT project development.
We will continue to ensure that the workforce goals are met through targeted and strategic outreach and continue to build momentum for engagement by highlighting businesses in the ongoing "Success Stories" campaign.
Early Work Packages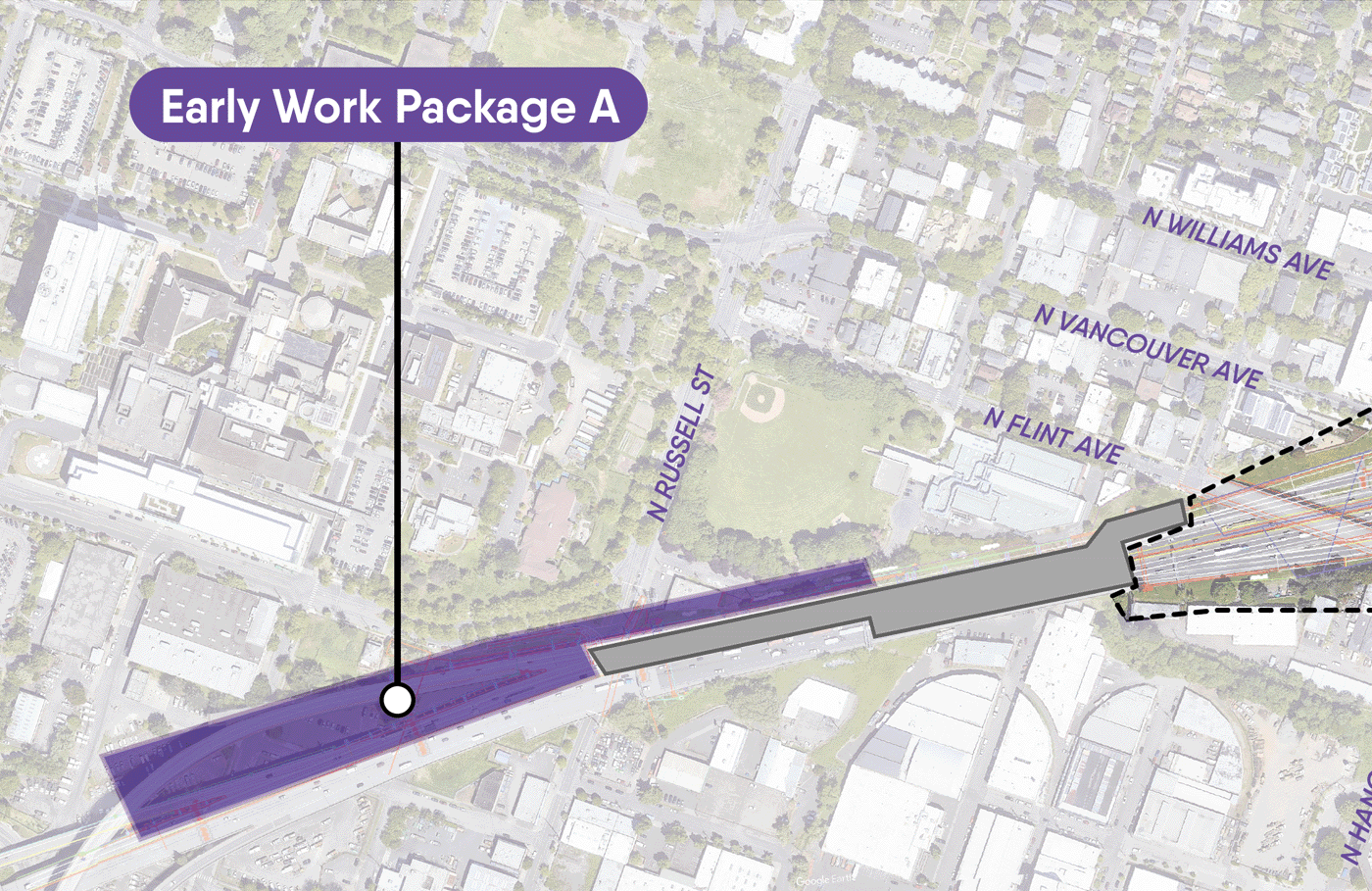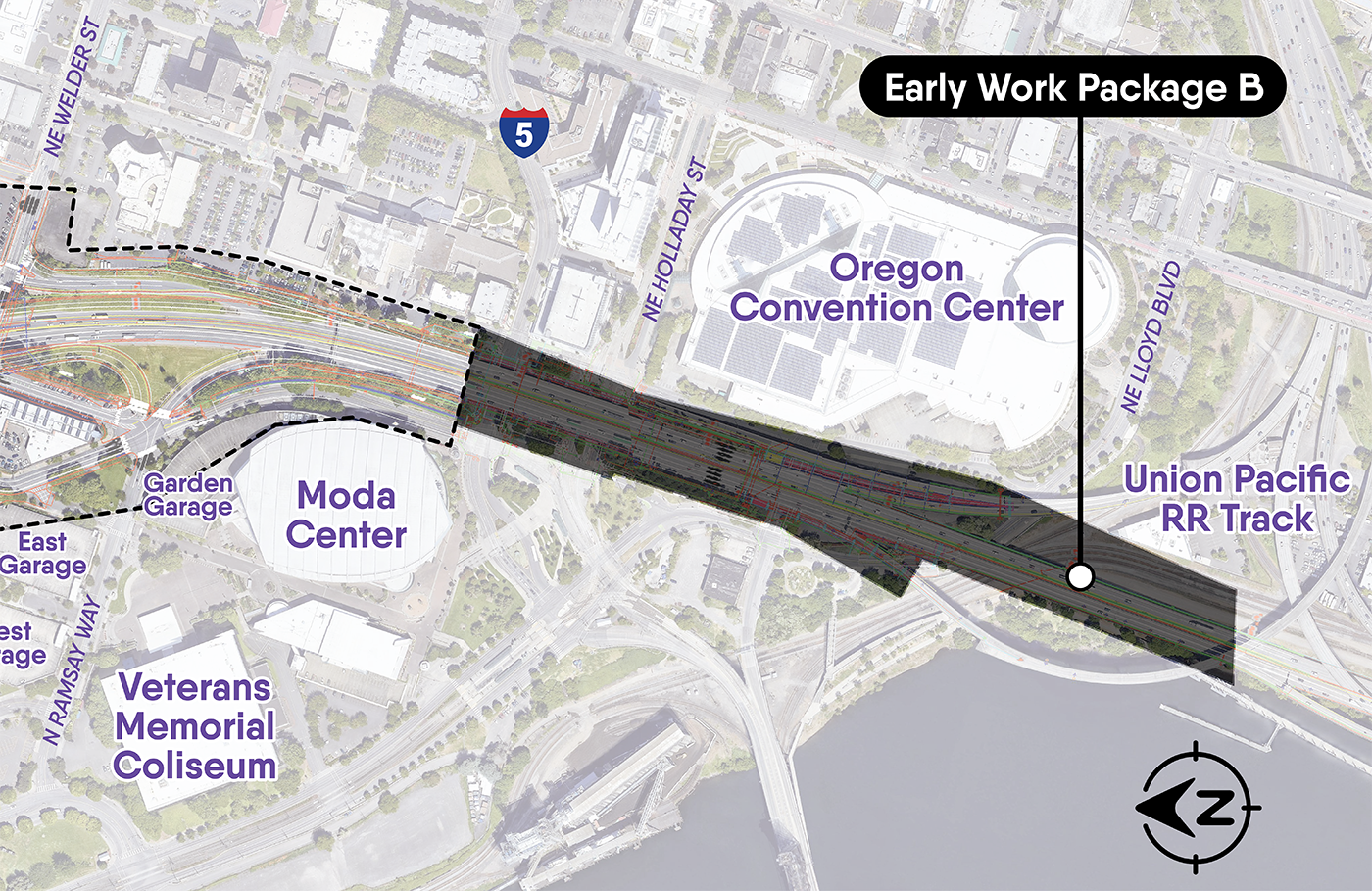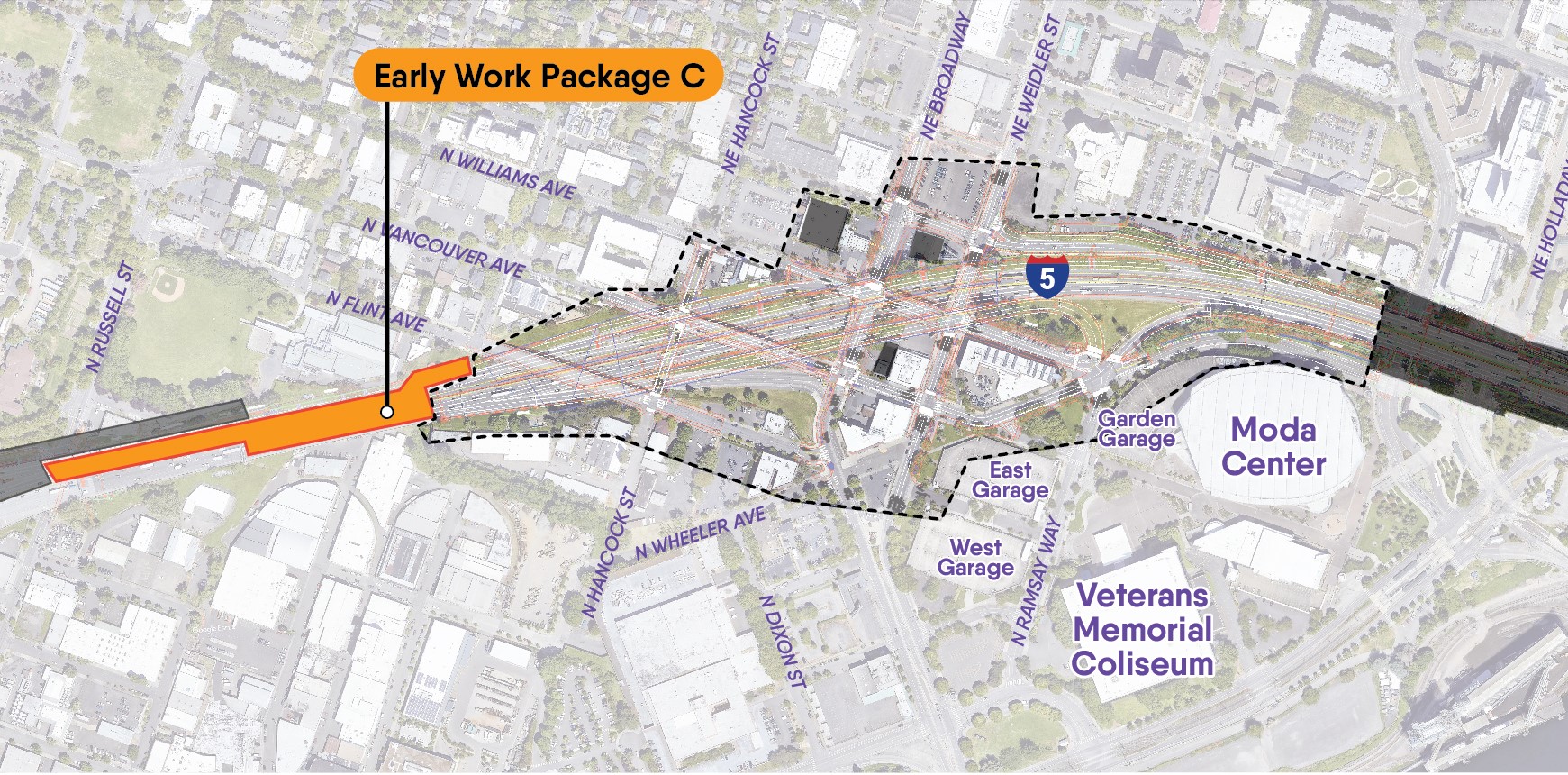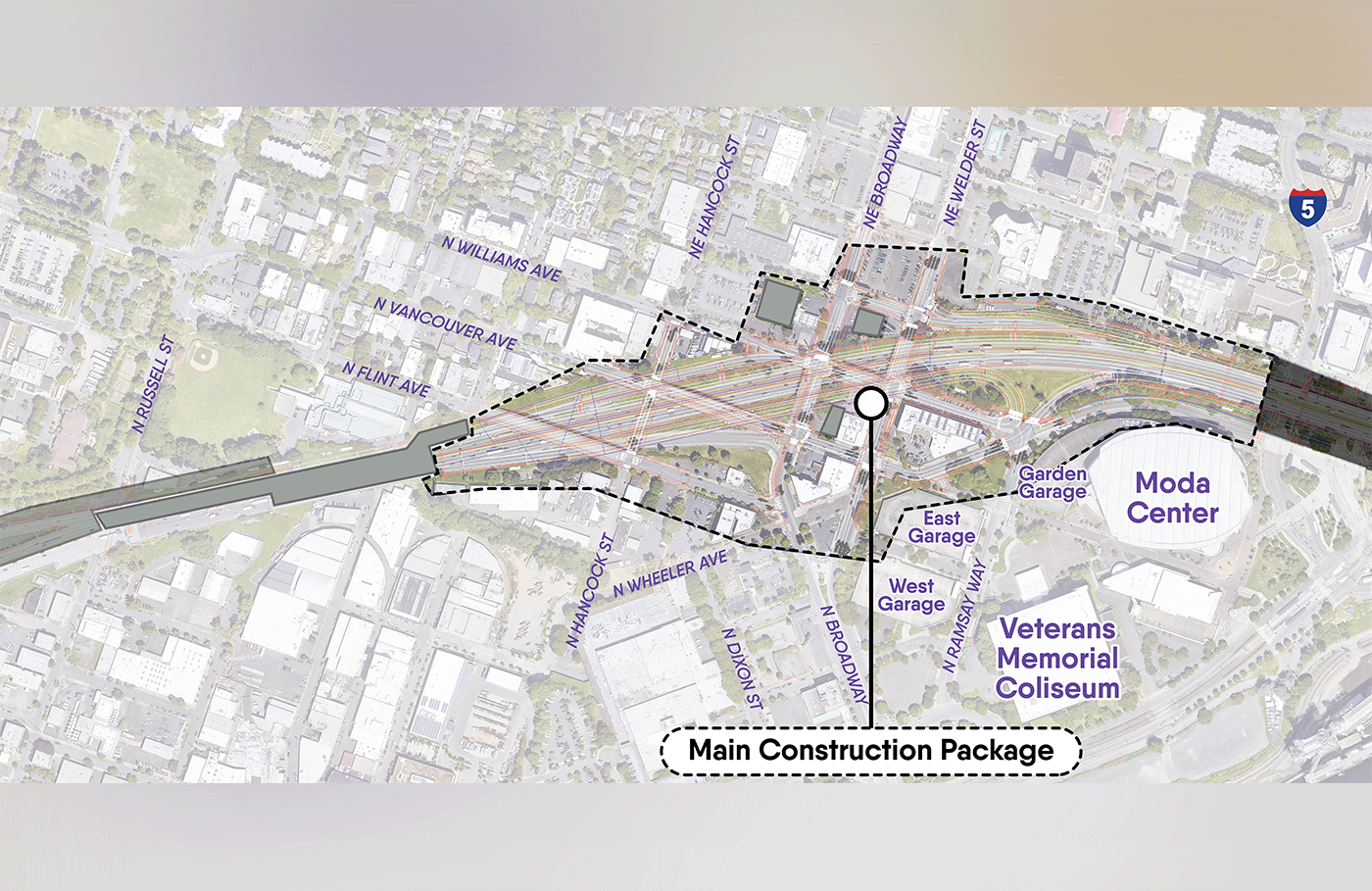 Please note that this graphic is conceptual, and the project design and cover shape may change as design progresses.
What is a CM/GC?
A Construction Manager/General Contractor (CM/GC) is a project delivery method where project contracts are released in two phases - first design and later construction. The project owner hires a contractor to provide feedback during the design phase, before construction begins. This contractor feedback provides the owner, contractor and designer opportunities to identify risks, develop cost projections and refine the construction project schedule.
Once the design phase is complete, the contractor and project owner negotiate the construction contract. Once costs are agreed upon, phase two - the construction phase - begins.
A Mini CM/GC follows the same phasing but is geared to smaller companies.